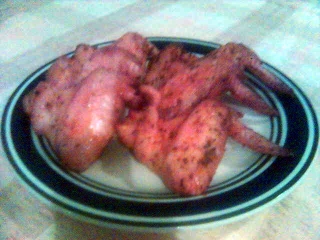 Ingredients
Edit
16 Chicken wings
2 tbsp Olive Oil
1 tbsp Paprika
1 tsp Lemon Pepper
1 tsp dried Oregano
1/2 tsp Chilli powder
1 tsp Salt
Preheat oven to 200° Centigrade. Line a baking tray with baking paper.
Brush chicken wings with oil. Combine spices in a large snap-lock bag. Add chicken in batches and toss until well-coated.
Lay out chicken on baking tray, and roast for 30-35 minutes or until golden and cooked-through.
Enjoy. :)
Ad blocker interference detected!
Wikia is a free-to-use site that makes money from advertising. We have a modified experience for viewers using ad blockers

Wikia is not accessible if you've made further modifications. Remove the custom ad blocker rule(s) and the page will load as expected.